Back to all posts
Posted on
Ben & Jody Nish Fundraiser - 4 Ways to Help Out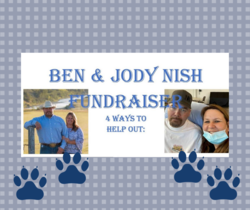 Bottle Drive - Drop off recyclable bottles at CJHS or the bottle depot.
Cash or Coin Donation - Bring any extra change or bills you have to the CJHS office and drop it n the bin. Or e-transfer your donation to: cjhsfees@westwind.ab.ca
Taco in a Bag with What's Pop'n - Pre-order a lunch here by MAY 17th (midnight). Pick up is May 19th at CJHS between 11:30 and 1pm.
Hoodie or T-shirt Order - Order a NISH GRIT hoodie and/or T-shirt! Orders are due May 20th by midnight.