Back to all posts
Posted on
CJHS Learning Schedule for November 30 - January 11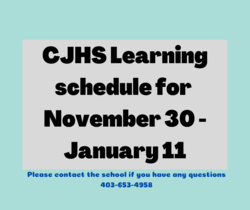 November 30 - December 18
Grade 6 will have in school learning as usual. Daily learning schedule will stay the same.
Grade 7 & 8 will do on-line learning as outlined via emails from Grade Teams to Parents.
January 4-11, 2021
All Grade 6-8 students will do online learning. Please watch for Grade Team emails for further instructions.