Back to all posts
Posted on
Schedule for the First Day of School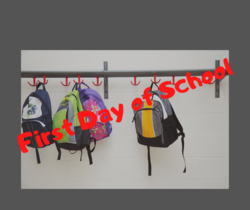 Hello CJHS Parents,

Thank you for all your flexibility, patience, and hard work during this school year.  Especially, with our online environment!  We appreciate your feedback and communication as we adjusted to help support each of our learners.  

We need your help!  On August 31, 2020 we would like a staggered entry on the first day (see below).  Each grade will come at the designated start time and dismissal time.  Could you please make transportation arrangements to have them come on time and leave on time from the school?  This will help us to go over healthy routines and important details, as well as get settled into the new school year.  Please read carefully below for the correct grade's start and dismissal times for your child to make sure they can come for the exact time. 
(September 1, 2020 will be a regular scheduled day for all students).
August 31, 2020 first day of school - times for each of our students at CJHS.
Grade 6 starts at 8:30 AM- Dismissed at 10:30 AM
Grade 7 starts at 10:45 AM - Dismissed at 12:15 PM
Grade 8 starts at 1:00 PM - Dismissed at 2:30 PM